PASSABILITY OF THE "U PAPOUŠČÍ SKÁLY" WEIR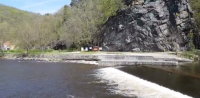 There will be reconstruction works carried out at the "U Papouščí (Barevné) skály" area during the following two months. There is a risk of a large stone falling from the top of the rock.
The area by the Konopa weir is not completely closed!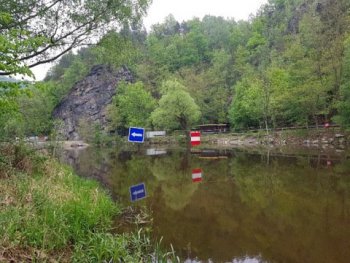 At present, the road directly under the rock is fenced and the passage is thus completely obstructed. Crossing the Konopa weir is now changed as follows: From May 4, 2018, passing through the right water gate is forbidden. Signal signs direct boats to the weir crown by the left bank. Crossing the weir is possible up to 5 m from the left bank.
For more information, please refer to General Measures of the State Navigation Authority (in czech). Hand-carrying of boats during the limited passing period will only be possible on the left side, along the crash barriers. We will inform you about further changes. If you have any questions, please do not hesitate to contact us.
Photo: Facebook of Povodí Vltavy (Vltava catchment area Authority)
< Back to overview