VOROPLAVBA 2018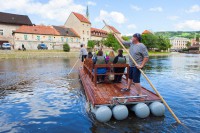 Are you a little tired of paddling, and ready to learn a bit about the town instead?
Come and visit our partner company VOROPLAVBA, where you can take a ride on rafts and experience the river from a slightly different perspective.
The boat trips depart at: 10:30, 12:30, 14:30, 16:30 and 18:30.
Our gondoliers can also take strollers and carriages on the rafts without any problems, and there's always a place for pets...
Don't hesitate, and contact us at:
Tel: +420 605 218 018
e-mail: info@voroplavba.cz
web: www.voroplavba.cz
< Back to overview