SURFSPORT Boat and Raft Rental Shop
Our SURFSPORT boat rental in Český Krumlov is located at Latrán 13 and it provides both one-day and multi-day trips on the Vltava river with full service.
We have been involved in boat and raft rental on the Vltava rental since 1994. We will be glad to rent out canoes, kayaks, rafts, paddleboards, and all necessary watermen equipment to both enthusiastic individuals and large groups. We rent out boats on the Vltava river from Vyšší Brod to Budějovice and we provide full service for watermen. Transportation and car parking is a matter of course.
Our Boat and Raft Rental Shop in Český Krumlov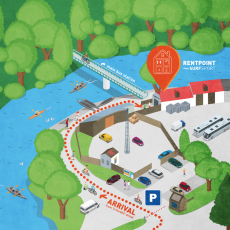 Our boat rental shop is located at Pivovarská 27 in Český Krumlov, where we provide especially one-day trips for tourists. You can visit us here, or we can pick you up at a previously agreed place, e.g. in front of your hotel. We will deliver boats and rafts for your multi-day trips to a previously agreed place.
We rent out all the equipment in our Rent Point at the same address. You can also recharge your mobile phone, store your language, or use sanitary installations, including showers here.
Custom-made boat trips
You don't have any experience as a waterman or you don't want to spend time with planning? Our specialty is one-day and multi-day boat trips with complete "turnkey" service. We will arrange the necessary equipment and transport for you, select a suitable route, arrange accommodation even in hotels outside the camp, transport your baggage and provide you with our Water Sport Assistance. Just tell us your ideas and we'll take care of everything.