SURFSPORT BIKE AND SCOOTER RENTAL SHOP
We have been involved in boat and raft rental on the Vltava rental since 1994. In 2018 we also newly included also other sports equipment, such as bikes, electric bikes, scooters, electric scooter, and run bikes. Other equipment and accessories (such as children's seats, children's carts) are available on request. We rent out all watermen and biking equipment to both individuals and large groups from Vyšší Brod up to České Budějovice and we provide our customers with comprehensive service. Transportation and car parking is a matter of course.
Our bike and scooter rental shop in Český Krumlov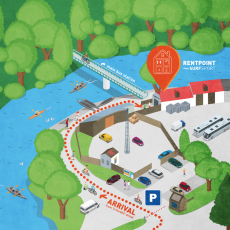 Our bike and scooter rental shop is located at Pivovarská 27 in Český Krumlov, where you can visit us, or we will gladly pick you up at a previously agreed place, e.g. in front of your hotel.
We rent out all the equipment at our Rent Point at the same address. If needed, we will deliver everything necessary to wherever you need, of course. You can also recharge your mobile phone or store your language here.
Trips with Complete Turnkey Service
Our specialty is one-day and multi-day watermen and biking trips with comprehensive "turnkey" service. We will arrange the necessary equipment and transport for you, select a suitable route, arrange accommodation even in hotels outside the camp, transport your baggage and provide you with our Water Sport Assistance. Just tell us your ideas and we'll take care of everything.